The Madcap Laughs
It's been almost a month since Syd Barrett passed away at the age of 60. Most blogs marked his passing in one form or another. I didn't post anything at the time. As the days went by, I figured it was no longer timely and didn't want to seem like I was jumping on the bandwagon by posting something late and lame.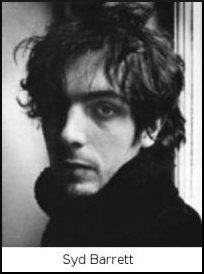 Earlier this week, I got the August 10 issue of Rolling Stone. Inside was their Syd Barrett
obituary
. There's no new insights into what happened to Syd; no one close to him is talking about what happened. Rolling Stone just quotes former Pink Floyd manager Peter Jenner as saying, "He went into the fog. Every now and then he would come out. And then he never came out again."
The short, two-page article made me realize how lonely a place insanity is. I can only hope that, at the end, Syd had someone there who loved him.
Jugband Blues.mp3
from Pink Floyd's second album, "A Saucerful of Secrets."
See Emily Play.mp3
Pink Floyd's second single.
Terrapin.mp3
from Syd's debut solo album, "The Madcap Laughs."